Masan High-Tech Materials received the "Enterprise for Employees" award at the 14th ceremony in honor of outstanding laborers and officials, enterprises in the period of 2021-2023, and presidents of the grassroots trade union in the period of 2018-2023. The ceremony was organized by Thai Nguyen Provincial Labor Confederation on May 31.
The Company was honored for putting people-first in its development strategy and adhering to the company's sustainability orientation since the beginning of operation. In addition to promoting production and business emulation movements, Masan High-Tech Materials prioritizes the employees' well-being and job satisfaction by investing in facilities and policies to provide employees with an ideal working environment. This helps boost employee confidence and motivation, resulting in their significant contribution to the company's sustainable growth.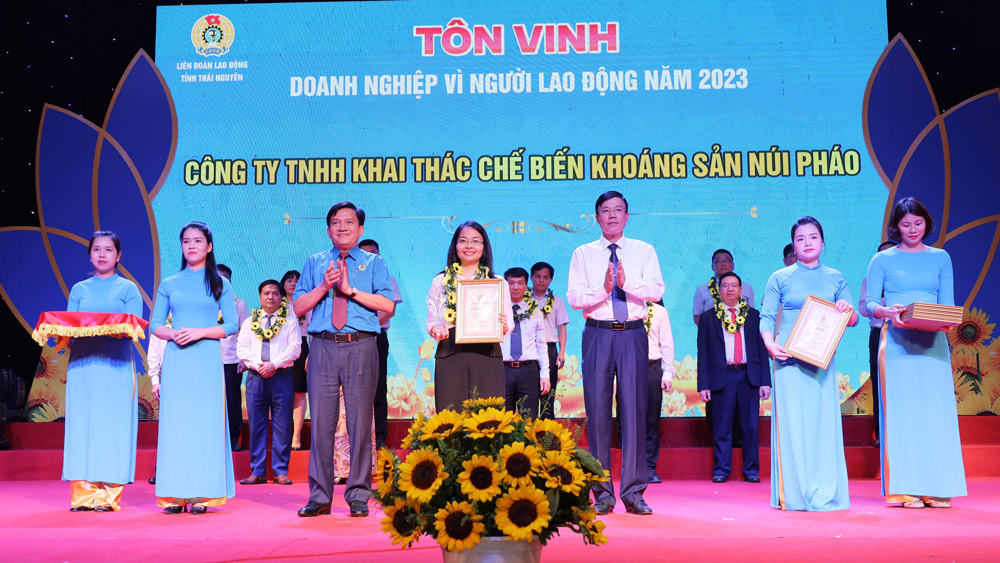 Representative of Masan High-Tech Materials received the award "Enterprise for Employees" in 2023
Masan High-Tech Materials and other enterprises honored in 2023 managed to run their business effectively while taking care of their employees during and after the Covid-19 pandemic despite the difficulties and challenges it brought on. In order to achieve sustainable development, these companies also established harmonious and strengthened labor relations, while looking after the physical and spiritual well-being of their employees.
As a world-leading high-tech material supplier with over 1,500 employees working in Vietnam and production facilities in Germany, Canada, and China, Masan High-Tech Materials ensures transparent and attractive benefit and commendation policies for employees with specific development plans. In order to safeguard the health and safety of its employees, the company offers working and welfare policies such as annual health check-ups, healthcare insurance for employees and their family members, etc.
The "Enterprise for Employees" award plays a key role in educating employers, labor unions, and the general public about the most valuable resource: People. It motivates Masan High-Tech Materials and the business community in general to provide better care for employees, contributing to delivering social security and fostering economic growth.
This is a wonderful and well-deserved award that recognizes the multi-faceted contributions, efforts, and attempts made by the company's employees over the years, particularly in providing superior employee care so that each and every one of them always considers the company their second home.