Deputy Prime Minister Tran Luu Quang recently signed Decision No. 567/QD-TTg, recognizing Phu Binh district as meeting the new rural development criteria in 2022. Therefore, Phu Binh is the first district in Thai Nguyen province to be recognized for meeting the new rural development criteria.
Thus, Phu Binh is the first district and the fourth administrative unit in Thai Nguyen province to meet the new rural development criteria (following the cities of Thai Nguyen, Song Cong, and Pho Yen)."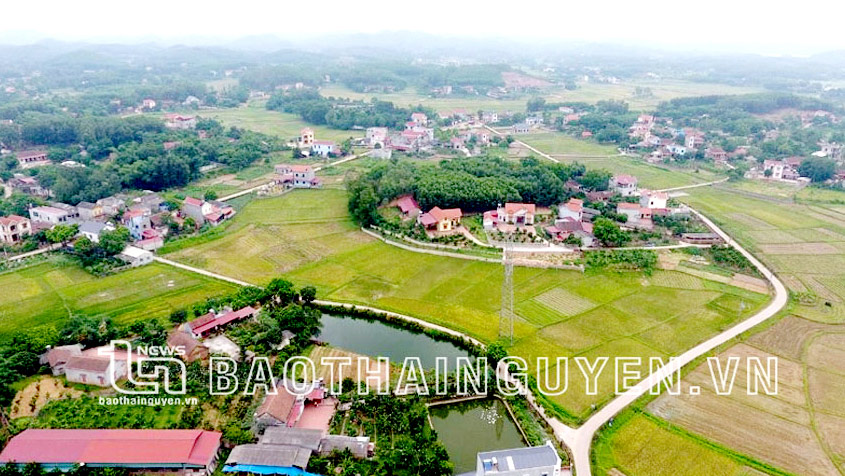 A corner of Phu Binh new rural district.
Over the past 12 years of implementing the New Rural Development Program, Phu Binh district has mobilized nearly 5,400 billion VND to carry out the program. From this funding, the district has invested in upgrading nearly 900 km of rural roads, repairing and renovating over 210 irrigation works, installing and upgrading more than 50 transformer stations and 500 km of power lines, constructing nearly 1,000 classrooms, and establishing a system of the cultural houses for communes and hamlets to meet the needs of the people.
In 2022, the state budget revenue in the district reached the highest level ever, with over 715 billion VND, nearly 4 times higher than in 2021. The district has 3 products recognized as "Collective Brands" (including Phu Binh hill chicken, Uc Ky sticky rice soy sauce, and Thau Dau sticky rice); 15 OCOP products (under the One Commune One Product program). The poverty rate (according to the new criteria) has decreased by 1.1 percent per year (achieving 162 percent of the provincial plan); the average per capita income reached 70 million VND per year.
By the end of 2022, Phu Binh district had 5 advanced new rural commune, namely Tan Duc, Duong Thanh, Xuan Phuong, Uc Ky, and Tan Khanh (exceeding the plan by 3 communes); Hương Sơn town achieved the civilized urban status; the remaining 14 communes met the new rural commune standards for the 2021-2025 period.